As the industries progress, numerous technologies are being innovated and honed to optimize various industrial applications, especially regarding flow control. Among these advancements, the concept of a Slip Ball Valve has emerged.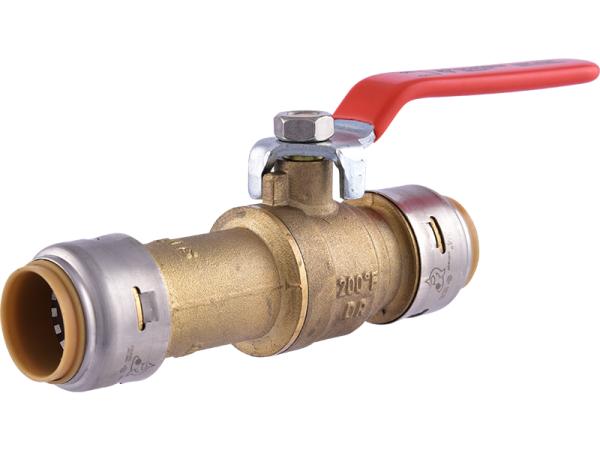 What is a Slip Ball Valve?
A Slip Ball Valve involves superior engineering design wherein the valve doesn't incorporate a cavity in the sphere's center. Instead, it features a complete bore opening with the 'Slip' feature allowing two inches of rigid pipe (such as copper or CPVC pipe) to be cut and reconnected seamlessly within an existing line.
Why are Slip Ball Valves Used?
Slip Ball Valves find their application where full-bore flow is incomparable or a specific degree of turbulence reduction and decreased pressure drops are required.
How Slip Ball Valves Work
A slip ball valve primarily functions as a connecting mechanism between two rigid pipes. It plays a crucial role during emergencies or while performing repairs.
Components of a Slip Ball Valve
The main components include the valve body, which is made of lead-free DZR brass material, an O-ring made of EPDM, a grab ring made of stainless steel, and a tube support liner constructed from polysulfone.
Operation of a Slip Ball Valve
The valve operates with a simple sliding feature. This allows it to be installed easily on pre-existing rigid pipes like copper or CPVC. The valve uses one-lever controls, promoting easy use and management of the water supply.
Advantages of Slip Ball Valves
One of the key merits of the slip ball valve is its incredibly efficient flow capacity due to its complete port design. This unique design allows fluids to pass through the valve body without restriction.
High Flow Capacity
Among the several advantages of slip ball valves, the most significant one is their high flow capacity. Owing to the entire port design, this valve can allow liquids to flow freely throughout the valve body, eliminating any potential blockage or limit to the flow rate.
Easy Installation and Removal
Not only do slip ball valves ensure a smooth flow of fluids, but they also offer easy installation and removal. These valves' [push-to-connect design] enables quick installation without any complex tools. This feature also permits swift and effortless disconnection in scenarios requiring repair or replacement. The slip ball valve is a practical and convenient choice, serving as a hassle-free solution in critical situations.
Applications of Slip Ball Valves
Slip ball valves are efficient for various uses. These valves can be used in industrial and residential settings, carrying a range of practical applications.
Industrial Applications
In an industrial setting, slip ball valves can help manage fluid control in processing plants, waste treatment facilities, and manufacturers. Their ability to quickly cut off supply makes them a go-to for factory safety.
Residential Applications
In residential situations, slip ball valves are often used in plumbing systems. They allow homeowners to control the water supply easily, making them a favorable option for repairs and installations.
Types of Slip Ball Valves
Regarding the types of slip ball valves, the main distinctive features lie in the materials used to make them and their diverse configurations.
Materials Used in Slip Ball Valves
The slip ball valve body primarily consists of lead-free DZR brass, ensuring durability and reliability. Other components of these valves include an O-ring made of EPDM, a grab ring made of stainless steel, and a tube support liner made of polysulfone.
Different Sizes and Configurations
Slip ball valves come in several sizes to cater to different pipe requirements. Their innovative design reduces up to two inches of tube, making them suitable for tight spaces. Moreover, they feature a one-lever control for easy operation.
Based on the type of media flow needed, the ball's ports in these valves can either have a T-shape or an L-shape. The T-shape allows flow in a single direction, while the L-shape facilitates multi-directional flow.
Conclusion
The groundbreaking technology of the slip ball valve has transformed the plumbing industry, offering a practical, convenient solution for copper and CPVC pipes.
Summary of Slip Ball Valve Benefits
In summary, here are the notable perks of the slip ball valve:
Effortless installation due to its slide feature.
It can be easily handled using the one-lever controls for water supply shut-off.
It offers operability in tight spaces due to its ability to reduce up to 2 inches of pipe.
Final Thoughts on Slip Ball Valves
The slip ball valve is a testament to innovation in valve technology. It's a fantastic asset for quick repairs and unexpected plumbing situations, making it an indispensable tool for professionals and do-it-yourself enthusiasts.