Large Pipelines have their own unique challenges. To someone outside the industry, the concept of a 96" diameter valve might be overwhelming.
There are no off-the-shelf solutions to large valve requirements. Anything greater than 36" is a specification within itself. Different applications, different service demands. All dictating special design considerations – even if they are being made for the same market. The sheer size adds another unique set of complexities to the design and manufacturing of large valves. Engineered Valves has the knowledge, experience, and facilities to be your source for reliable ZECO Valve large valves.
The large Gate Valve series is designed for reliable isolation in applications where extra-large dimensions are required such as space simulation applications. The series is designed for up to DN 2400 mm (96″) but is available in larger sizes upon request.
All of the valves in the Large Gate Valve series address the standard requirements of reliability, durability, and serviceability with a special focus on high uptime and low cost of ownership.
The resilient seated gate valve is mainly composed of the valve body, rubber-lined elastic gate plate, valve stem, and valve cover seals. Resilient seated gate valve surface, as well as the flow channel side valve wall, are plastic spray electrostatic powder. Not only has the appearance of the beautiful, more important flow channel and the smooth inner valve wall, ensure that the rubber lining gate will not be affected by the rough inner valve wall when opening and closing.
Features of Large Knife Gate Valve
Robust construction
Low profile design
Low operating torque
Custom fabrication available
Body:

Fabricated carbon steel lined with either 304, 316 or 316L

Seats:
Features of Large Gate Valve with Resilient Seat
GGG50 / DI GJS500-7 body, bonnet, and gate cast with progressive foundry technology for high strength.
More stiffening ribs are distributed reasonably to make solidly built.
Integrated design stem with high strength and durability.
The wedge is fully vulcanized with WRAS-approved EPDM for drinking water.
Wedge with central guides to avoid rubber friction when operating.
Internally and externally coated with fusion bonded epoxy (FBE).
A full and straight bore avoids turbulence, pressure loss, and venturi effect.
Back seal design allows for the replacement of stem seals under operating pressure.
The stem nut is separated from the wedge to avoid seizing up.
The unique gland seal design is different from most manufacturers.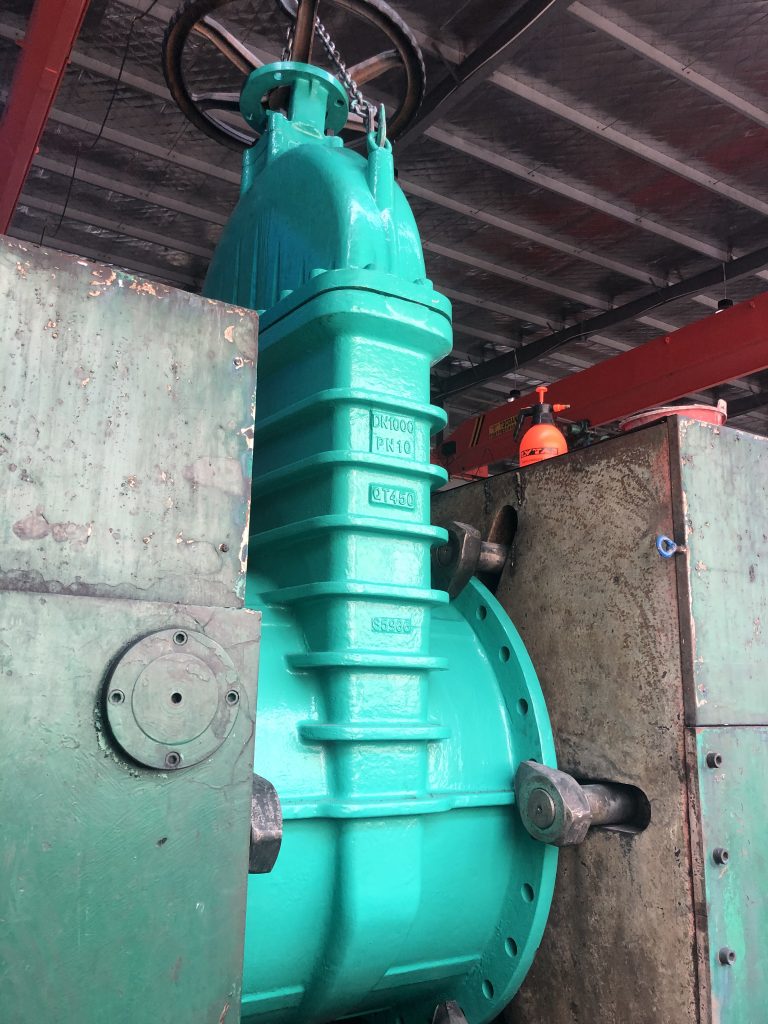 | | |
| --- | --- |
| Body | Ductile iron With Coating Fusion Bonded Epoxy(min.250um) |
| Disc | Ductile iron+EPDM |
| Shaft | SS 316 |
| Stem Nut | Bronze |
| Pressure | PN16 |
| Connection | Flanged |
| Operate | Gear |
Large Diameter Gate Valve – DN1200 specification
ZECO valve is a professional large gate valve manufacturer since 1991and has maintained a good relationship between customers and suppliers.