The word GOST (Russian: ГОСТ) is an acronym for gosudarstvennyy Standart (Russian:государственный стандарт), which means state standard. The GOST standards carry a two-part number, the first of which is a serial number, and the second, to indicate the year of issue, i.e., GOST 1577-70.
GOST 5762 – The standard applies to valves for general industrial use at a nominal pressure of not more than PN 250 and can be used for certification purposes. The standard does not apply to valves of non-metallic materials and lined
What is Gost Steel Gate Valve?
GOST steel gate valve is one of the most common on-off valves, which uses the upper and lower working of the gate to connect (open) and cut off (fully close) the fluid medium in the pipeline. Such gate valves are widely used as regulating and shut-off devices in pipelines such as tap water, sewage, construction, petroleum, chemical, food, medicine, textile, electric power, marine, metallurgy, and energy systems.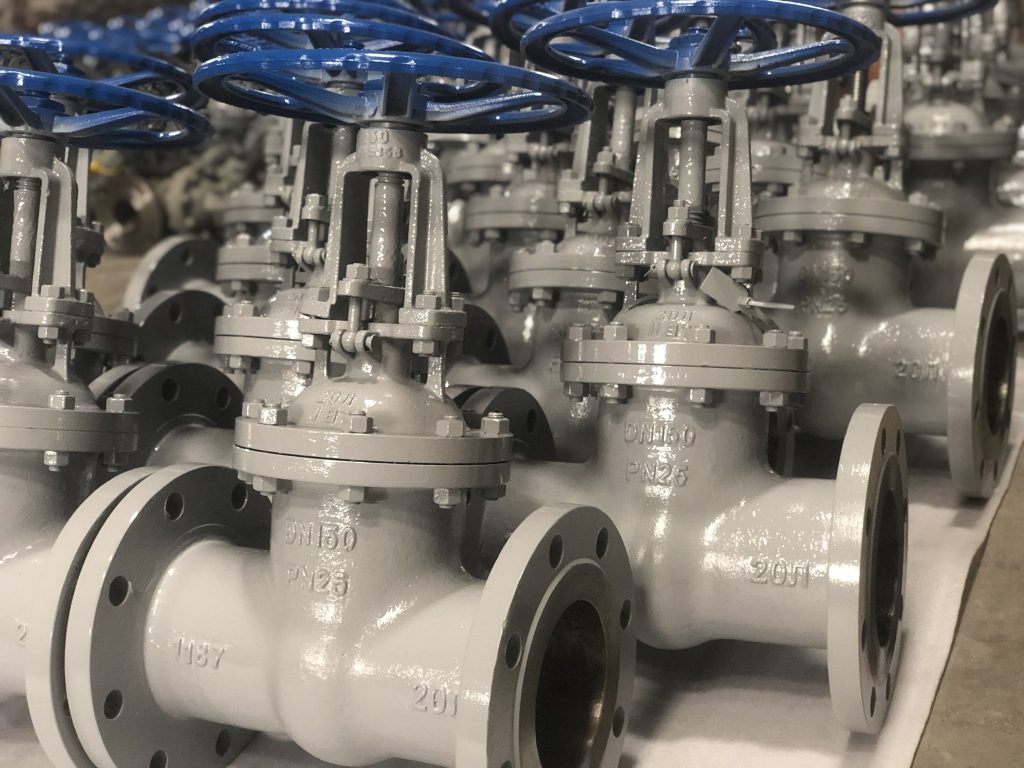 Stem: forged steel, single-part construction, ACME screw
Body and bonnet: high quality and precision tooled cast iron
Bore: Full port that guarantees minimum turbulence and minimum flow resistance
Backseat: screwed into the bonnet
Flexible wedge
Overview of Gost Steel Gate Valve
Size: from 2" to 48"
Pressure: PN6 – PN160
Material: WCB, LCB, WC6, WC9, C12, C5, CF8, CF3, CF3M, and CF8M
Design and production standard: GOST5762-2002
Distance between flanges: GOST3706-93
Connected in accordance with standard: GOST12815-80
Test standard: GOST356-80
Actuation: can operate with lever, gearbox, a pneumatic or electric actuator with handwheel for emergencies
Medium: The valve is suitable for several media including water, steam, oil, gas, petrol products, nitric acid, acetic acid, etc.
Working temperature: from -46ºC or -50ºC (stainless steel constructions) and -29ºC (carbon steel constructions) up to 600℃
Features of Gost Gate Valves
The fluid resistance is small, and the sealing surface is less washed and eroded by the medium (the shutter opening height is high).
The opening is more powerful, the sealing performance is good, the flow direction of the medium is not restricted, the flow is not disturbed, and the pressure is not lowered.
Simple shape, good manufacturing process, and wide application range.
If you are looking for manual operate gate valve manufacturers, please be free to contact us.
Related Tags :
Ten articles before and after
Cryogenic Gate Valve | Zecovalve Blog
GMK ANSI standard 150lbs 300lbs 600lbs 1 1/2″-24″ WCB gate valve | Zecovalve Blog
Flanged Gate Valve | Zecovalve Blog
API Cast Steel Flanged Gate Valve | Zecovalve Blog
Casting gate valves | Zecovalve Blog
ductile iron /cast iron metal seated gate valve | Zecovalve Blog
gate valve,flanged gate valves | Zecovalve Blog
push-on gate alves | Zecovalve Blog
Cast steel pressure sealing swing ball float flapper type check valve | Zecovalve Blog