What are the different types of gate valves?
There are three ways to classify the gate valve.
Types of Disc
Solid wedge is the most common & widely used disk type because of its simplicity and strength. A valve with a solid wedge may be installed in any position, and it is suitable for almost all fluids. It can be used in turbulent flow also.
However, it does not compensate for changes in seat alignment due to pipe loads or thermal expansion. So, this type of disk design is most susceptible to leakage. Solid wedge is subjected to thermal locking if used in high-temperature service.
Thermal locking is a phenomenon in which a wedge is stuck between the seats due to the expansion of the metal. Solid-wedge gate valves are generally used in moderate to lower pressure-temperature applications.
The flexible wedge is a one-piece solid disk with a cut around the perimeter. These cuts vary in size, shape, and depth. A shallow, narrow cut on wedge perimeter gives less flexibility but retains strength. A cast-in recess or deeper and wider cut on wedge perimeter gives more flexibility but compromises the strength.
This design improves seat alignment and offers better leak tightness. It also improved performance in situations where thermal binding possible. Flexible wedges Gate valves are used in steam systems.
Thermal expansion of the steam line sometime causes distortion of valve bodies which may lead to thermal blinding. The flexible gate allows the gate to flex as the valve seat compresses due to thermal expansion of the steam pipeline and prevents thermal blinding.
The disadvantage of flexible gates is that line fluid tends to collect in the disk. These may result in corrosion and ultimately weaken the disk.
Split wedge or Parallel disks Gate Valve
Parallel disk gate valves consist of two discs that are forced apart against parallel seats by a spring at the point of the closure. The most famous type is the knife gate valve which has a flat gate between two parallel seats (an upstream and a downstream seat) to achieve the required shut-off. The application of a parallel gate valve is limited to low pressures and low-pressure drops.
Types of Body Bonnet Joint
Screwed Bonnet
This is the simplest design available and it is used for inexpensive valves.
Bolted-Bonnet
This is the most popular design and is used in a large number of gate valves. This requires a gasket to seal the joint between the body and bonnet.
Welded-Bonnet
This is a popular design where disassembly is not required. They are lighter in weight than their bolted-bonnet counterparts.
Pressure-Seal Bonnet
This type is used extensively for high-pressure high-temperature applications. The higher the body cavity pressure, the greater the force on the gasket in a pressure-seal valve.
Types of Stem movement
Rising Stem or OS & Y Type (Outside Stem and Screw Type)
For a rising stem valve, the stem will go up while opening the valve and move down when you close the valve. You can see it in the image. In the inside screw design, the threaded portion of the stem is in contact with the flow medium, and when you open the valve, handwheel rise with the stem.
Whereas in the case of outside screw design, the only smooth portion is exposed to the flow medium and the stem will rise above the handwheel. This type of valve is also known as OS & Y valve. OS & Y means outside steam and York.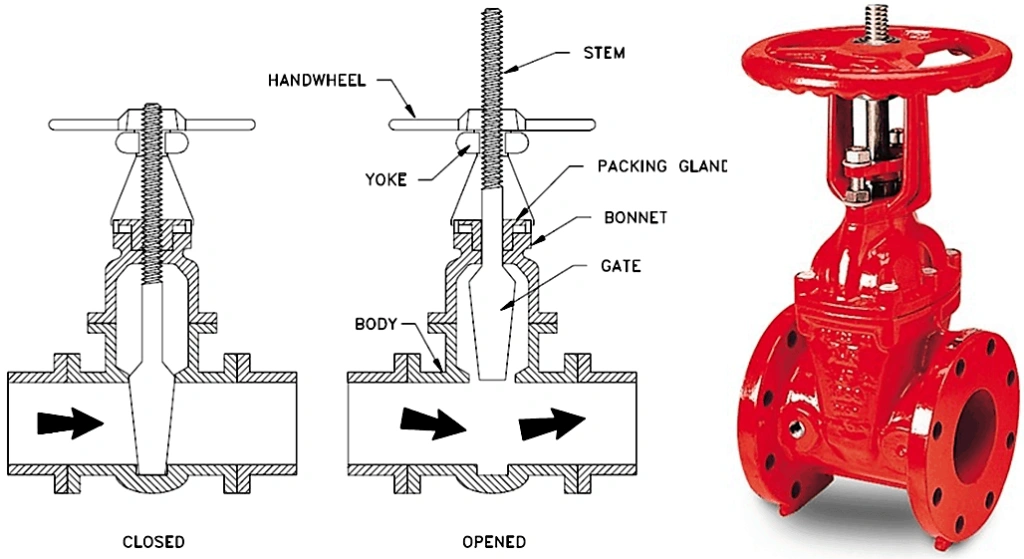 Non-rising Stem type
There is no upward movement of the stem in a non-rising stem type. The valve disk is threaded internally. The disc travels along the stem like a nut when the stem is rotated. You can see the image. In this type of valve, stem threads are exposed to the flow medium.
Therefore, this design is used where space is limited to allow linear stem movement, and the flow medium does not cause erosion, corrosion, or wear and tear to stem material. This type of valve is also known as an insider screw valve.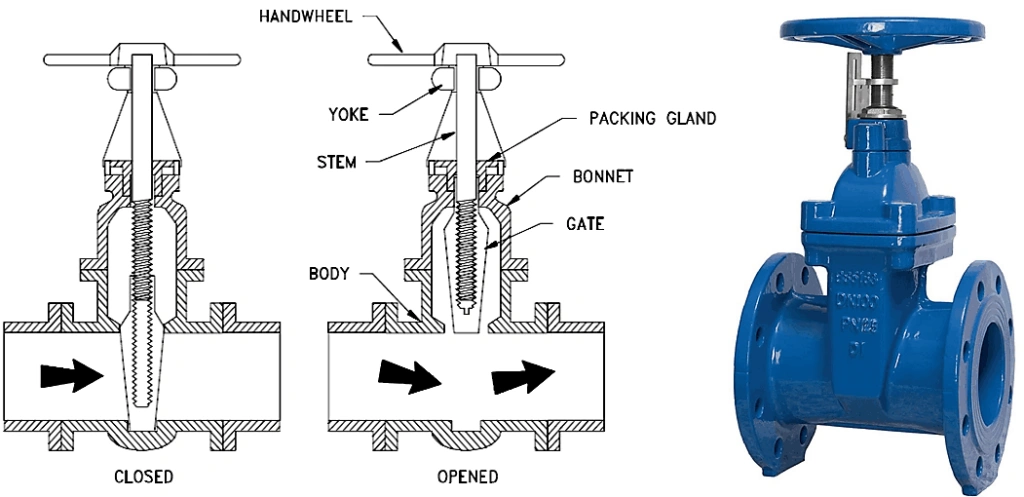 What gate valve is used for?
A gate valve is a control valve that either allows media to flow through unobstructed or stops the fluid flow. The main advantage of a gate valve is the straight-through unobstructed passageway, which induces minimal pressure loss over the valve. The unobstructed bore of a gate valve also allows for a pig's passage in cleaning pipe procedures, unlike butterfly valves. However, gate valves are slower than quarter-turn valves and should only be used in the fully open or closed position, not to regulate the flow. Automated gate valves exist with either an electric or pneumatic actuator, but a manual gate valve is cost-effective since gate valves are typically used infrequently. Gate valves are also commonly referred to as sluice gate valves.
Top 8 Gate Valve Manufacturers
Gate valves are one of the top valves commonly used in industrial applications but these valves are prone to wear and damage because of its design. Lots of people will confuse the difference between gate valve and globe valve and other valve types. To ensure that gate valves function optimally and last through their service life, buyers need to find reliable and reputable gate valve manufacturers with a valve factory located in the United States. This article tackles the top US gate valve manufacturers and what they can offer potential valve buyers.
# 1 Tate-Jones, Inc.
With its valve factory located in Portersville, Pennsylvania, Tate-Jones has been in the business for more than a century. Tate-Jones offers a wide array of valves including blast gate valves that come in threaded and flanged types.
Suitable for low-pressure applications where tight shutoff is not required, their gate valves are made of cast steel, gray iron, or stainless steel. Designed to regulate airflow, its standard design comes as Class 30 in gray iron that can withstand up to 425-degree Fahrenheit. The company also accepts customized gate valves in carbon steel and stainless steel materials.
# 2 Merit Brass Co.
Merit Brass Co. is a leading US valves and pipe fittings manufacturer based in Cleveland, Ohio. Serving industries such as petrochemical, power generation, and the like, Merit Brass Co. takes pride in its ISO 9001: 2015 certification for quality management.
The company is a custom manufacturer of flanged gate valves primarily made of stainless steel and Alloy-20. Its gate valves are NSF-approved and meet ASME and ASTM standards.
# 3 Penn Stainless Products, Inc.
Penn Stainless Products is a custom valve manufacturer and distributor based in Quakertown, Pennsylvania. Founded in 1949, Penn Stainless Products produces gate and globe valves made of different grades of stainless steel, including hard-to-find stainless steel alloys such as 309H and 330 and 405 grades.
It also provides a full-line service center with the highest quality stainless steel products. its services include plasma cutting, and waterjet cutting, among others. It has two quality certifications under its belt: ISO 9001:2015 and ISO 9001:2008, respectively.
# 4 SharkBite
SharkBite is a manufacturer of multi-turn gate valves. Based in Atlanta, Georgia, it has provided services to its clients for more than 2 decades. Primarily for water flow applications, SharkBite gate valves are equipped with vents to protect them from freezing.
The gate valves have passed the ANSI 61 standards and are approved by NSF 372 standards. The company has its own manufacturing plant, it can produce gate valves made from raw brass. The gate valves are also compatible with certain kinds of materials such as PEX, CPVC, PE-RT, HDPE, and copper pipes.
# 5 FLSmidth, Inc.
FLSmidth is a manufacturer of different types of gate valves, including bi-directional, high pressure, and wafer knife valves. Suited for slurry media, gate valves produced by the company range from 50mm to 1,200mm in diameter. It can carry pressure levels up to 300 psi. The temperature range of FLSmidth valves can withstand ranges from -60 to 300-degree Fahrenheit.
FLSmidth valves are not only abrasion resistant, but also acid-resistant. The company also manufactures other kinds of industrial valves including butterfly valves.
# 6 New Pig
Based in Tipton, Pennsylvania, New Pig is a brass gate manufacturer. New Pig services leak and spill containment applications. Its product is aimed at applications dealing with thicker media heavier than SAE 30. Its drum gate valve is made of cast brass construction with a 2-inch NPT Bung opening. Its certifications include ISO 9001:2015 and ISO 14001:2015.
# 7 Asahi/America, Inc.
Asahi is a manufacturer of thermoplastic valves and actuators. It offers several kinds of industrial valves, including gate valves. Its gate valves are suited for full-port, large-diameter applications.
These have a solid polypropylene plug and a non-rising stem feature. Its seal is certified by ANSI 61 standards. Its size can range from 1-½ inch to 14inch in diameter with flanged connections and high-impact PVC material for its body.
Since Asahi is also a custom manufacturer, it also provides additional options with its actuator line. Asahi gate valves are suited for shut-off applications, mining, water treatment, and chemical processing. The company offers a one-year limited warranty on its gate valves.
# 8 Zeco U.S.A.

Zeco is a manufacturer of shutoff valves, including gate valves, Based in Mobile, Alabama, it has been in service since 2001. Its gate valve line can hold up to 5,000psig pressure and 600-degree Celsius. The sizes ranged from ⅛-inch to ¾-inch in diameter. It also features soft seats.
Zeco valves are safe to use in nuclear applications, offshore and onshore oil and gas applications, and power generation applications, among others. Its certifications include API 6D, ISO 9001:2008, ISO 9001:2000, Pressure Equipment Directive(2014/68/EU), and ISO 14001: 2004.
Bangladesh customers visit our company
International Trade Department Mr. Li and Miss Hao warmly received our customer from Bangladesh.
Bangladesh customers mainly visited the finished products warehouse and Workshop Ten, and evaluate our company has a large scale and strong production capacity. We quoted for national standard non-rising stem gate valves, gate valves, and strainers. We got an agreement to use our DHV hand wheels, and this annual purchase is 4-5 40 feet containers.
Related Tags :
Ten articles before and after
China Butterfly Valves Supplier,Cast Iron and Stainless Steel
ANSI gate valves,China Supplier and Manufacturer
Bellows Seal Globe Valve,stainless steel and cast iron globe valve
ANSI high pressure bellow sealed globe valve
Cast Iron Butterfly Valves, China Valves Supplier
China Zeco Valves Supplier,116th Canton Fair
DIN Valves,China Supplier,Gate Valves
Zeco Valves,Stainless Steel Globe Valve,Wafer Butterfly Valve