What is API 6D Standard?
The API 6D Specification is an adoption of ISO 14313: 1999, Petroleum and Natural Gas Industries-Pipeline Transportation Systems-Pipeline Valves. API 6D Standard defines the requirements for the design, manufacturing, assembly, testing, and documentation of ball, check, gate, and plug valves for application in pipeline and piping systems for the petroleum and natural gas industries.
What is API 6D Valves?
The standard specifies configurations for the following types of valves:
Gate valves
Lubricated and non-lubricated plug valves
Ball valves
Check valves
Full-opening valves
Reduced-opening valves
The valve ends may be flanged or welding. If fluid can become trapped in the body cavity, then valves for both gas and liquid service must have a pressure relief. Actuators may be electric, hydraulic, or pneumatic.
What is API 6D Ball Valve?
API 6D ball valves are designed manufactured to provide maximum service life and dependability. All ball valves are full port or reduced port and meet the design requirements of API 6D. API 6D ball valves are available in a complete range of body/bonnet materials and trims. API 6D ball valves are available for the pressure ratings only: Class 150, Class 300, Class 400, Class 600, Class 900, Class 1500, and Class 2500.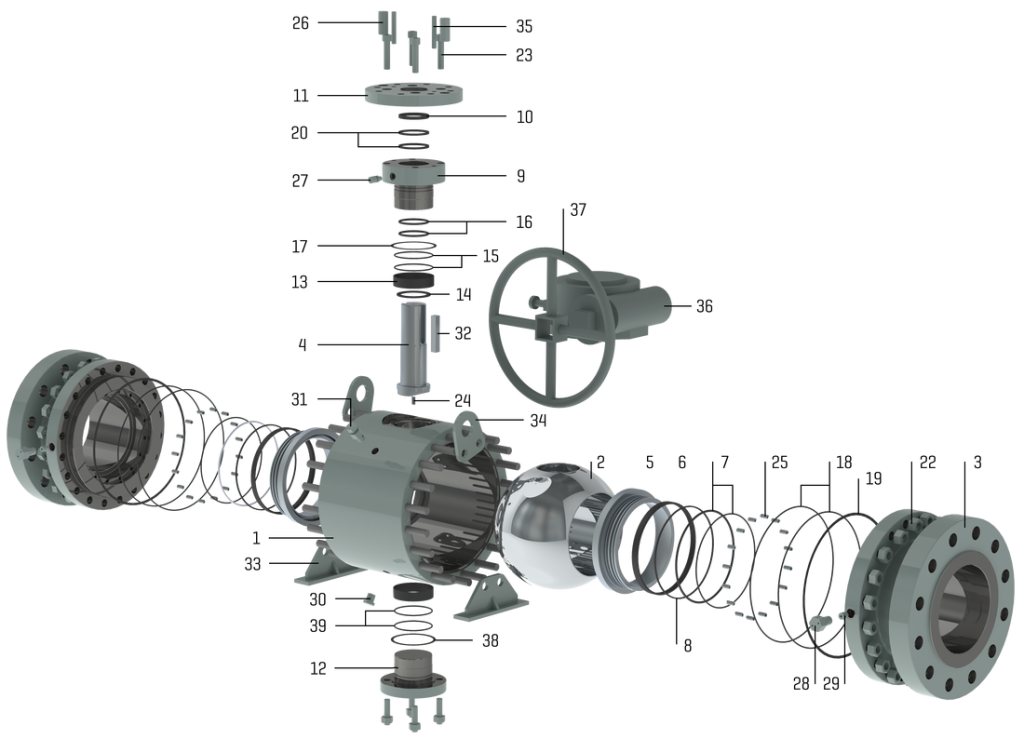 Features of API 6D Valves
Valves designed according to API 6D
All sizes available as full-or reduced bore
Double block-bleed on request
Fire safe to BS 6755, API 6FA and API 607
Valve seats as single or double piston type
Elastomeric and thermoplastic sealing materials to suit application
Can be delivered with any type of actuator & accessories
Secondary sealing by grease injection
All sizes and classes available with metal-metal sealing
Fully welded upon request
Antistatic device and anti blow-out stem
Special executions for cryogenic or high temp service
Difference between Gate Valves and Ball Valves
One of the most important components of a functional plumbing system is the valve it contains. Valves allow the start and stop of fluid flow, and they need to work well to prevent leakage and excess flow. Although there are many types of valves on the market, the two most common are ball valves and gate valves. This is the information you need to know about the two valve types.
What is a gate valve?
Gate valves get their name from the internal mechanism by which water flows. The mechanism looks like a tiny door that moves up and down on a lever attached to a handle. Handles are spiral handles that move the gate up and down and open and close the valve as needed. They are best used in on/off applications where valves are not used frequently. Although ball valves are becoming increasingly popular in this area, they can sometimes be found in home plumbing systems. They can be used in high-pressure and high-temperature environments, so they are often used in manufacturing.
Gate valves have one major advantage over ball valves. Because the opening and closing mechanisms are slow, no water hammer is caused. For this reason, some municipalities require that the valve closest to the water meter be a gate valve.
However, gate valves have drawbacks. The screw mechanism for opening and closing the valve is susceptible to corrosion. Once corroded, the valve will not work properly. Gate valves should be used in the fully open or fully closed position but may be stuck in the partially open or partially closed position on some models. This causes the gate to vibrate, which may damage the valve. People with disabilities may have difficulty operating gate valves, and gate valves do not provide visual clues as to the "on" or "off" position.
What is a ball valve?
Ball valves use a small ball or ball inside the valve to cut off the flow of water. There is an opening inside the sphere. When in the "open" position, the opening is aligned with the pipe, allowing water to flow freely.When in the "closed" position, the opening is perpendicular to the flow of water, thus stopping the flow of water completely. In a ball valve, the flow is controlled by a lever. Placing the lever perpendicular to the pipe allows water to flow through. Moving it at a 90 degree Angle stops it from flowing.
Ball valves have several advantages. They are easy to open and close quickly and can be used by persons with disabilities who cannot operate wheel valves. They allow the user to know at a glance whether the valve is open. They are rugged, do not freeze even after years of use, provide reliable service, and have a wide range of uses.
The main drawback of a ball valve is that it requires space. In tight applications, you may not have a 90 degree Angle to rotate the valve handle. Also, in rare cases, ball valves can produce water hammer phenomena.
We are valve suppliers. If you are interested in our products, please feel free to contact us.
Related Tags :
Ten articles before and after
Butterfly Valves: The Ultimate Guide | API 6D ball valve manufacturer
Installation And Maintenance Of Ball Valves | API 6D ball valve manufacturer
Common Faults And Maintenance Of Valves | API 6D ball valve manufacturer
The Distinctions Between Ball Valves and Butterfly Valves | API 6D ball valve manufacturer
Gate, Ball And Butterfly Valves | API 6D ball valve manufacturer
Precautions For Ball Valve Repair And Maintenance | API 6D ball valve manufacturer
The Distinction Between a Butterfly Valve As Well As Gate Valve | API 6D ball valve manufacturer
Check Valve: The Most Important Valve In a Process System | API 6D ball valve manufacturer
Sealing Elements Of Ball Valve(2) | API 6D ball valve manufacturer
Sealing Elements Of Ball Valve(1) | API 6D ball valve manufacturer