Fire safe design is important for industrial valves in industries like oil and gas, chemical, and petrochemical.
What is API 607?
API 607-2010 Fire Test for Quarter-Turn Valves and Valves Equipped with Nonmetallic seats such as ball valve, butterfly valve, plug valve. Fire test requirements for actuators (e. g., electric, pneumatic, hydraulic) other than manual actuators or other similar mechanisms (when they are part of the normal valve assembly) are not covered by this standard.
What is API 6FA?
The purpose of API 6FA standard is to establish the requirements for testing and evaluating the pressure-containing performance of API 6A and API 6D valves when exposed to fire. The performance requirements of this standard establish qualification criteria for all sizes and pressure ratings.
This standard applies to valves with one or more closure members.
API 6FA standard establishes acceptable levels for leakage through the test valve and external leakage after exposure to a fire for a 30-minute time period. The fire exposure test period has been established on the basis that it represents the maximum time required to extinguish most fires. Fires of greater duration are considered to be of a major magnitude, with consequences greater than those anticipated in this test.
API 6FA standard is not intended to address the qualification of valve actuators (including manually operated gearboxes). This standard does not cover check valves, pressure boundary penetration, external fittings, or end connections.
What is fire safe valve?
Reliable fire protection is the requirement for industrial valves in sensitive applications where fire accidents can happen easily. The valves used in the oil and gas, refinery, chemical, and petrochemical industries must guarantee a reliable and safe shut-off in case of fire. Fire-safe design is an important criterion for such industrial valves. The term fire-safe means the ability of the valve to minimize the amount of process lost (leakage) downstream or to the atmosphere after a fire test.
Industrial valves are not an entity of fire hazards. For valves used in the oil and gas industries, the American Petroleum Institute(API) has developed fire tests. After years of refinement, API 607, ISO 10497, API 6FA, BS 6755, and BS 5146 have been accepted as the standards of fire tests of valves. There are a few other standards and procedures like API RP6F, FM 6033, Exxon BP3-14-1, OCMA FSV-1, etc. Using these standards as guidelines, many organizations make their own internal procedure for fire-safe valves.
A universally accepted fire fighting strategy mentions that if a fire is not beaten in a one-half hour, a withdrawal and containment policy is instituted. Structural failures like flange bolt failures, pipe rack collapse, and concrete eruptions will occur. Based on this concept, a fire test duration of a one-half hour (30 minutes) has been established.
Fire Safe Design vs Fire Safe Tested
"fire safe design"valve is designed to be fire safe, but hasn't been tested.
"fire safe tested"valve may have been tested, but has not been approved by a third party.
"fire safe approved and certified" valve has been tested, approved and certified by a third party as per standards like API 607, API 6FA, ISO 10497, etc.
Comparation of API 607 and API 6FA
| | | |
| --- | --- | --- |
| Specification | API 607, 4ed | API 6FA |
| Scope | DN for AllPN≤ANSI CL2500 | DN for All |
| Sealing | Soft sealed | Not specified |
| End connection | ANSI | ANSI |
| Body material | Not specified | Not specified |
| Test liquid | Water | Water |
| Position of ball | Closed | Closed |
| Position of stem | Horizontal | Horizontal |
| Temperature | 760-980℃ of flame≥650℃ of body | 760-980℃ of flame≥650℃ of body |
| Burn period | 30 minutes | 30 minutes |
| Pressure during burn period | Acc. to pressure ratinge.g ANSI 600=74.7bar | Acc. to pressure ratinge.g ANSI 600=74.7bar |
| Leakage test during burn period, internal | Do not include company standards such as EXXON, SNEA etc. | Max 400ml*inch/min |
| Leakage test during burn period, external | Max 100ml*inch/min | Max 100ml*inch/min |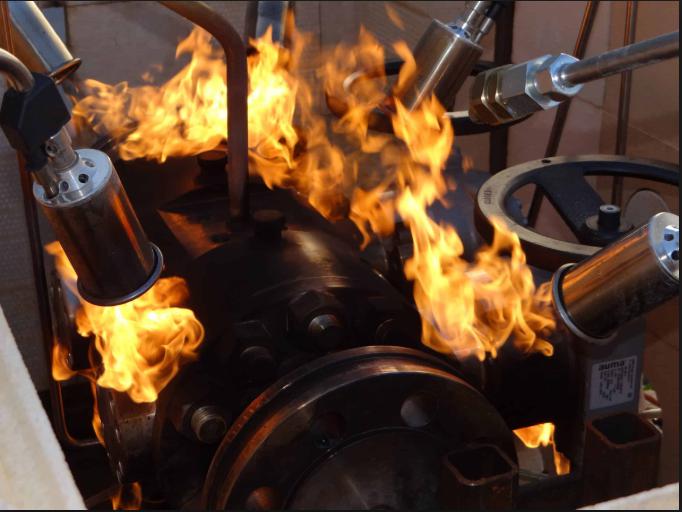 Related Tags :
Ten articles before and after
Gate Valve Vs Butterfly Valve Comprehensive Compare Guide
How to Measure Butterfly Valves
What is a Double Offset Butterfly Valve
How to Fix a Leaking Butterfly Valve?
What is a diaphragm valve? – Zeco |API Approved Valve Supplier
Sealant Injection System of Ball Valves – Zeco |API Approved Valve Supplier
What is a Plug Valve? – Zeco |API Approved Valve Supplier
Fire Safe Design for Ball Valves – Zeco |API Approved Valve Supplier
Classification of ball valves – Zeco |API Approved Valve Supplier