How They Work The most common flow control valves on the market are gate valves and ball valves. They are commonly used to regulate the flow of liquids and gases. Despite the fact that they are used in similar situations, there are a few key differences between these two valves. The differences between gate and ball valves are discussed, as well as how to choose between them.
Operation Differences Between Gate Valve and Ball Valve
Ball Valve
A Ball Valve employs a rotary ball with a bore and a stem. When the stem-attached handle is turned, the ball rotates to open or close the valve. Because the handle only needs a 90° turn (quarter turn) to allow or block the flow of the media, this valve is also known as a quarter turn valve. When the handle is parallel to the pipe, the valve is open; when it is perpendicular to the pipe, the valve is closed.
Gate Valve
A gate valve controls the flow of media through the use of a gate. A gate is a solid disc structure attached to the stem. The gate is raised to open the valve and returned to its original position to close it. The valve is accompanied by a bonnet, which controls the position of the gate when rotated. This valve is also known as a multi turn valve because it requires more than a 360° turn to fully open or close.
Types of Ball Valves
Floating Ball Valve
Trunnion Ball Valve
Fully Welded Ball Valve
Top Entry Ball Valve
Jacketed Ball Valve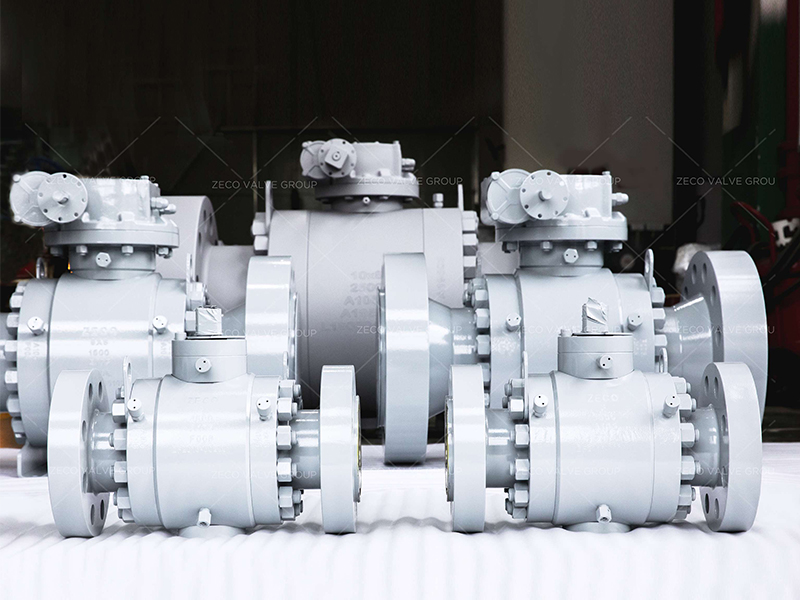 Types of Gate Valve
Rising Stem Gate Valve
Non-Rising Stem Gate Valve
Bellow Seal Gate Valve
Pressure Seal Gate Valve
Cryogenic Gate Valve
Forged Gate Valve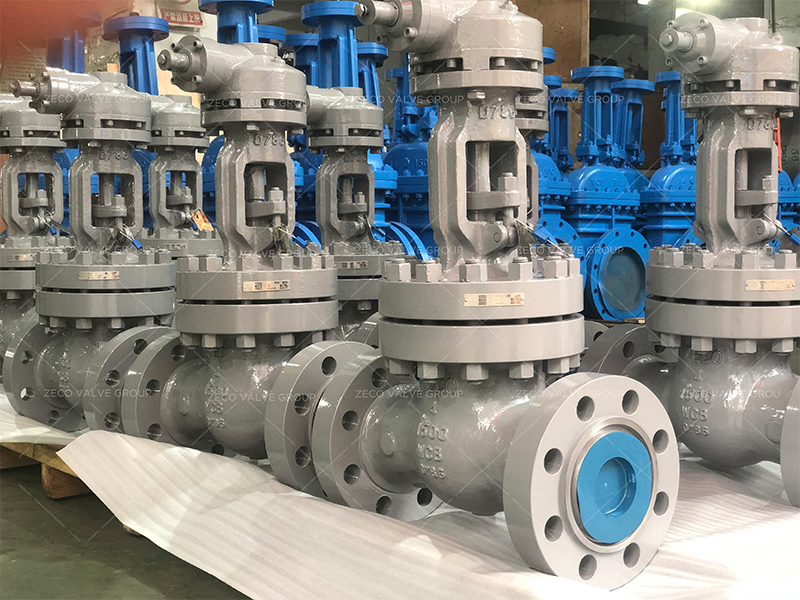 Advantages and Disadvantages of Gate Valve and Ball Valve
Ball Valve
Ball Valve – Close the valve with a quarter turn (90° turn) for a quick shut-off. A water hammer may occur if the door is opened and closed quickly. The position of the handle indicates whether the valve is open or closed. Typically more expensive than a gate valve with identical specifications. To accommodate a quarter-turn handle, it takes up more space than a gate valve. Bore sizes less than 2″ are better suited. Even when used after a long period of time, it maintains a tight seal. Durable and resistant to damage
Gate Valve
Gate Valve – Slow shut off because the valve requires more than a 360° turn to close. The water hammer is reduced by opening and closing slowly. It is difficult to determine whether the valve is open or closed. Typically less expensive than a ball valve with the same specifications. It takes up less installation space than a ball valve. Better suited for bore sizes greater than 2″. Leaks more easily than a ball valve. The valve stem can corrode, making the valve less durable.
Selection Criteria
Ports: A gate valve has two ports, whereas a ball valve can have multiple ports.
Flow Capacity: Gate valves are typically available in larger diameters, they can provide greater flow capacity than ball valves.
Opening and closing speed: Because of its quarter turn on/off operation, a ball valve is better suited for applications that require faster opening and closing speeds or during emergencies. A gate valve requires more than a 360° turn to operate, making it slower than a ball valve.
Sealing: A ball valve provides a tight seal and has completely shut-off characteristics as compared to a gate valve. Therefore, ball valves are better suited for applications like natural gas where a proper seal long-term is important.
Pressure: Ball valves and gate valves are both appropriate for low pressure applications. A gate valve, on the other hand, is better suited for high-pressure applications. This is due to the ball valve's rapid opening and closing, which can result in a water hammer.
Cost: In general, a ball valve is more expensive than a gate valve with the same specifications. A ball valve, on the other hand, is typically more durable and requires less maintenance than a gate valve. As a result, a ball valve may be more cost-effective in the long run.
Common Applications of Gate Valve and Ball Valve
Gate valves are generally found in older plumbing systems and in applications where a frequent shut-off is not required. Large water supply lines use gate valves due to their straight flow path and fewer flow restrictions.
Ball valves are increasingly used in new plumbing systems with frequent shut-off requirements.
Gate valves are used for application with slurries and viscous media because they are easier to clean and maintain.
Ball valves are not desirable because they are difficult to clean, and the slurry particles may damage the rotary ball.
Which is better gate valve or ball valve?
It depends on the application. A ball valve is better suited for smaller flow rates, anything requiring more than 2 ports, or for durability/sealing concerns. A gate valve is typically cheaper, better for higher flow rates, and requires a smaller installation space.
What is the difference between gate valve and ball valve?
The main difference is in the operation. A gate valve moves a solid disk up and down to open/close the orifice. A ball valve rotates a ball (the orifice) with a bore in it 90 degrees to open/close the valve.
Description:
Available materials: Cast iron, WCB, WCC, WC6, LCC, LCB, Titanium, SS304, SS316, CF8, CF8M , F55, F51, F53, Monel, Ductile Iron.
Available Size: ½" to 48"
Class: 150 to 2500
Nominal Pressure: PN10 to PN450
Medium: LNG, Cryogenic application, Water, Air, Steam, Oil
Ends: Flanged, Threaded, Buttweld, Socket weld
Operations: Lever Operated, Electric Actuated, and Pneumatic Actuated, Gear Operated
How do you know if ball valve open or closed?
how do we know if we are going to get our dreamy beer to flood into our awaiting pint glasses to quench our eager thirst? We need to know whether the valve is open or closed.
The majority of valves require a handle to turn the valve from the closed position to the open position. This diagram shows us what this looks like on a simple ball valve.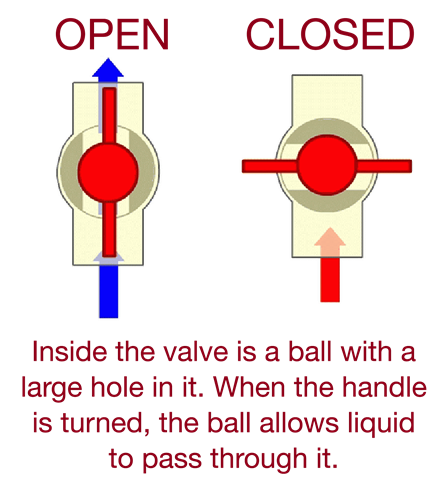 Usually, when someone asks if a valve is open or closed, they're not really that interested in the orientation of the valve but what they really want to know is, is there flow passing through?
In order to tell if the valve is open or closed, the general rule is, if the handle is switched 90deg to the flow, it is off. As you can see from the diagram above, if the handle is in line with the flow path, it is on. Simple. Of course, this only applies to manual-style valves such as the ball valve in the above diagram.
ZECO Valve offers a diverse range of Valves to meet the needs of our clients. Our Gate Valves are thoroughly against all the set parameters. We have been providing high-quality valves to our customers for many years. We manufacture various gate valves for our customers based on their specific needs, such as rising stem gate valves, non-rising stem gate valves, bellow sealed gate valves, pressure seal gate valves, forged gate valves, cryogenic gate valves, and industrial valves. Valve dimensions, sizes, and classes can be customized to meet the needs of the customer. 
If you want to know more valve manufacturers in Europe or other Germany Valve Manufacturers, please find them in our articles or you can contact us.
Related Tags :
Ten articles before and after
150#RF 1" Ceramic V-Notch Ball Valves to Umicore for Alumina slurry in autocatalyst production | API 6D ball valve manufacturer
PN16 DN100 Ceramic V-Port Ball Valves to Glencore for Nickel slurry in electrowinining process | API 6D ball valve manufacturer
Ceramic Double Disc Gate Valves and Dome Valves for thermal power plants in Philippines | API 6D ball valve manufacturer
Repeated orders of Ceramic Double Disc Gate Valves for limestone in coal fired power plants | API 6D ball valve manufacturer
PN16 DN25/DN50 Ceramic V-port Ball Valves to Glencore for Nickel refinery | API 6D ball valve manufacturer
Advantages and difference of Gate valve and Globe valve – Valves Only Europe | Professional valve manufacturer
What is a valve and types ? What are the uses of it ? – Valves Only Europe | Professional valve manufacturer
On off valve manufacturers and suppliers in Iraq, Oman, Saudi arabia – Valves Only Europe | Professional valve manufacturer
High temperature stainless steel ball valve in Europe – Valves Only Europe | Professional valve manufacturer
Non Slam check valve manufacturer in supplier – Valves Only Europe | Professional valve manufacturer