What is a Wafer Check Valve?
Wafer Check Valve is a non-slam spring-assisted, center-guided "wafer" check valve designed to prevent "water hammer" and "reverse" flow. The lightweight compact design fits between mating flanges and meets API 594 Face-to-Face dimensions. Wafer check Valve is an easy-to-maintain check valve for applications involving liquids, gases, or steam. Can be used in horizontal or vertical installation. Tapped holes are provided in the body for lifting lugs to assist with installation (10″ and larger sizes only).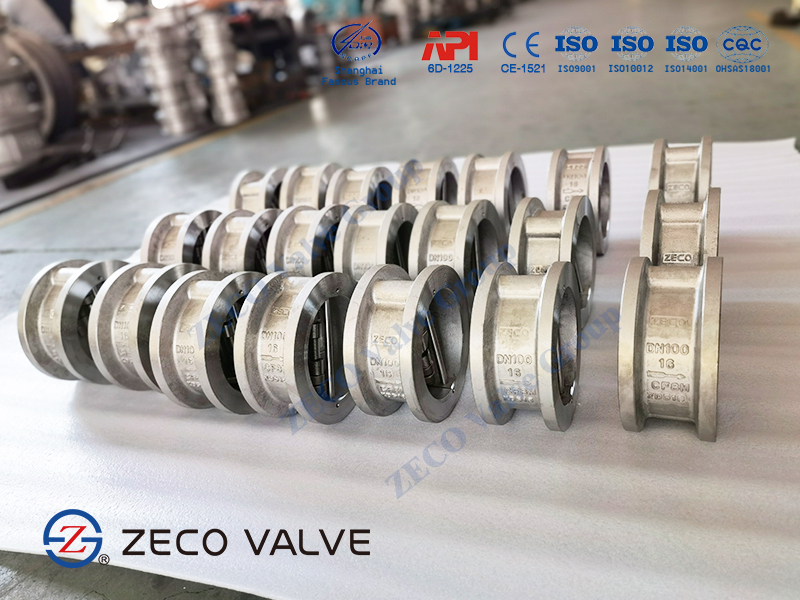 How does a Wafer Check Valve work?
Wafer check valves use a swinging disc to allow or block flow. Their design allows them to be fitted in extremely tight spaces – where the flanged check valve can not be used. The wafer check valves have molded bodies around the area where the disc opens up. This is the most important difference between the above two types of valve.
Wafer check valves on the contrary have a molded body that creates room for the disc to swing open fully, thus allowing full flow. As you can imagine, this is very important if your application requires full flow. For this reason, we usually offer wafer check valves for applications where flow is not an issue, and swing check valves when a full port valve is required.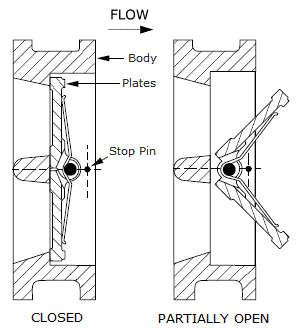 Advantages of Wafer Check Valves
Low Pressure Drop (High Cv)
Dual plate wafer check valves have larger open area than other designs, thus reducing pressure drop compared to swing, lift or other check valves.
Reduces weight by 80–90% compared to conventional Flanged check valves.
Light weight, compact profiles and the elimination of flanges allows DPW check valves to be manufactured more economically than other designs, especially as pipe diameters increase.
Our spring activated discs are designed to close our valves quickly. This assures high performance, eliminating chatter and creating dynamic responsiveness in a non-slam design.
Easier to install, remove and replace in both new and existing piping systems.
Applications of Wafer Check Valves
Gas and liquids pipelines
Field gathering systems
Wellhead injection lines
Gas export facilities
Product tank farms
Chemical processing
Gas storage caverns
Power generatio
Troubleshooting of Wafer Check Valves
Valve does not close
Valve plates are stuck open. Open the valve according to the dual plate wafer check valve manufacturer's instructions and remove any foreign materials interfering with closure.
Valve does not open
Low suction pressure. Increase the suction pressure to the level recommended by the dual plate wafer check valve manufacturer.
The installation of the valve is wrong. Install the valve again according to the flow direction indicated on the valve body.
Closed downstream valve. Open the downstream valve.
Pipe blockage. Check the pipeline delivering the media to the valve and remove any material causing blockage.
External leakage
Loose bolts. Tighten the bolts to attain the torque required by the dual plate wafer check valve manufacturer.
Worn out or damaged gasket. Replace the gasket.
Damaged/worn out O-rings. Replace the O-rings.
Internal leakage
Debris in the valve. Open the valve and clean it.
Damaged seat. Replace the seat.
Worn out/damaged O-rings. Replace the O-rings.